Having spent over a decade in digital advertising, at both large and small organizations, I have repeatedly observed organizations not paying enough attention to what their competitors are up to and missing out on the opportunity to save a significant amount on their advertising and technology costs.
In more cases than not, I've seen the fanciest dashboards packed with internal performance metrics and insights but little to no information regarding what our competition is up to. What's most alarming is how we live in an age where data is plentiful and readily available, yet we often end up missing out on the troves of data related to our competitors.
So really why are all these insights not being brought to the forefront for proactive decision making? Just imagine the learning costs and iteration time that could be saved by learning from your competitors' mistakes and successes? Wouldn't it be helpful to know which promotions and offers your competitors are in market with and quickly adjust your campaigns to counter? Or even get a sneak peak at your competitor's digital acquisition strategy and marketing mix to identify promising sources of traffic? What about finding which tools and technologies they are leveraging to expand their digital footprint?
Search-focused teams tend to be a little better informed about the competitive landscape in comparison to Display, Social and Email channels, largely because of the wealth of tools and data that Google provides to garner those type of insights. Keeping track of your competitors' movements across every channel can prove to be a daunting task, but with the help of the right (often free) tools and a systematic process in place, it should be relatively easy and extremely rewarding!
Over a series of posts, I'll explore some tools and techniques that you can utilize to keep a finger on the pulse of your competitors, and eat their lunch!
X-Ray Vision of Your Competitors' Advertising and Site Analytics Trackers
A must-have for anyone in digital advertising and/or IT, Ghostery is one of the easiest and most commonly used tools to scan what technology is embedded on a particular web page. It's an easy install, free and available as an extension for most browsers on the market. Once installed, all you have to do is visit a web page and click on the Ghostery icon in the app extensions. It will then display all the advertising, site analytics and social media trackers used by that domain in a very intuitive and easy to read format. It's a handy tool to have when looking at which SSP's a publisher is working with or in other cases which vendors a competitor is utilizing.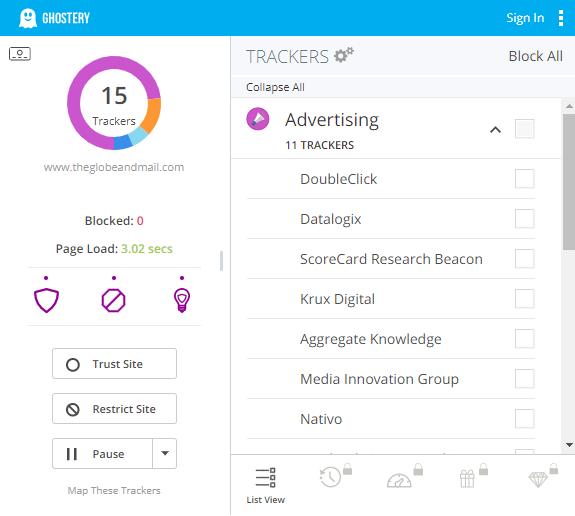 For those of you that are more technical and want an X-ray vision of your competitor's technology stack, there is BuiltWith.com! The tool is used for a multitude of purposes from lead generation, market intelligence and sales intelligence but some of the more simple use cases for it are to see which widgets, CMS, frameworks, CDN, email services, nameservers, and advertisers the website is using.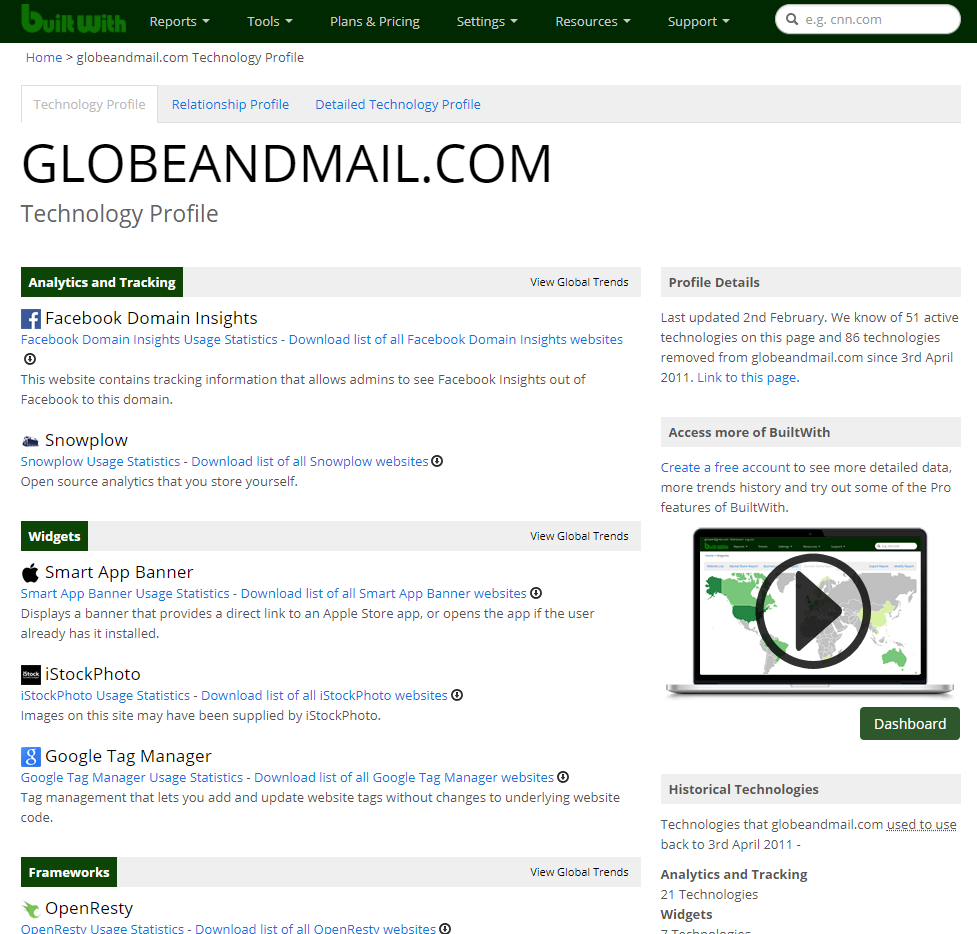 One of the more interesting features of this service is their 'Technology Trends' section which captures all the trending technologies globally and buckets them into their associated technology groups. Know if the solution you're evaluating is over the hill and losing market share.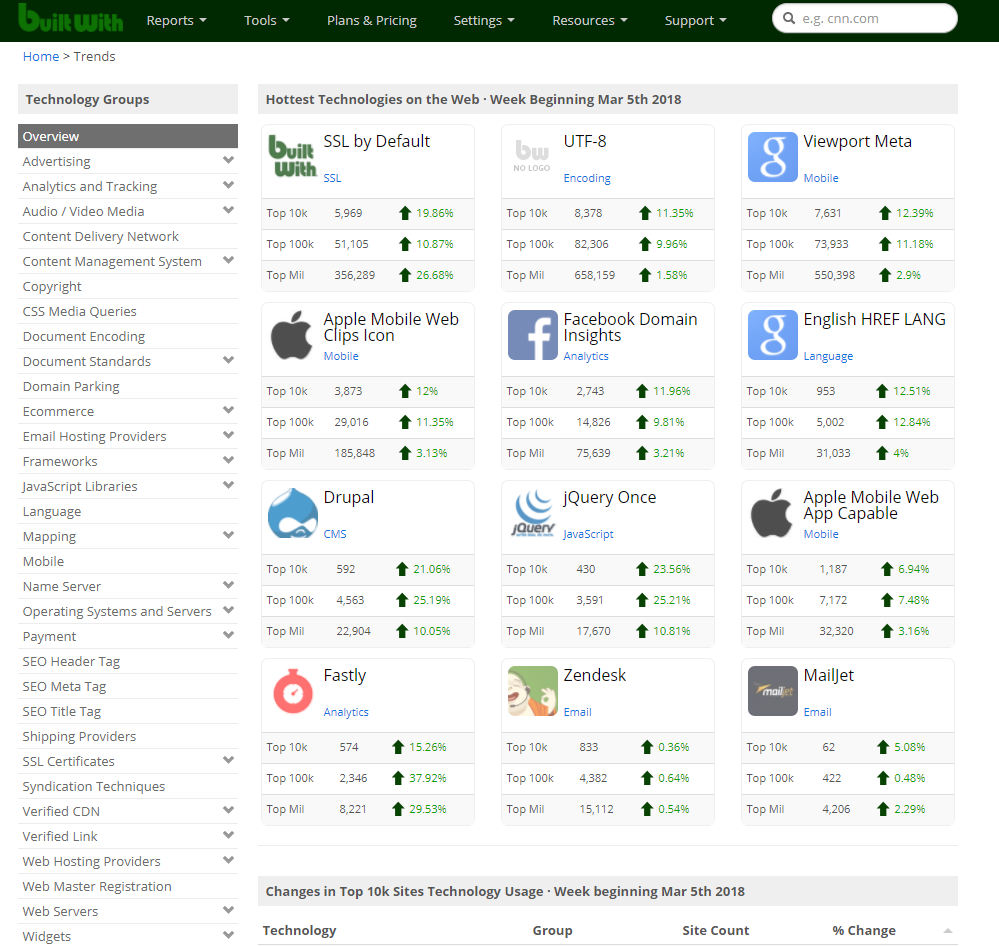 If you're looking to see which 'retargeting/remarketing' technologies are gaining popularity and adoption in the 'Advertising' technology group, it's as simple as clicking on 'Advertising' then 'Retargeting/Remarketing' and you will see a visual breakdown of the most popular and trending platforms. You can even filter for 'Top 10K' or 'Top 100K' sites from the filter on the right. This shows Facebook Custom Audiences continuing to gain traction as the most widely used platform for retargeting, followed by Google Remarketing.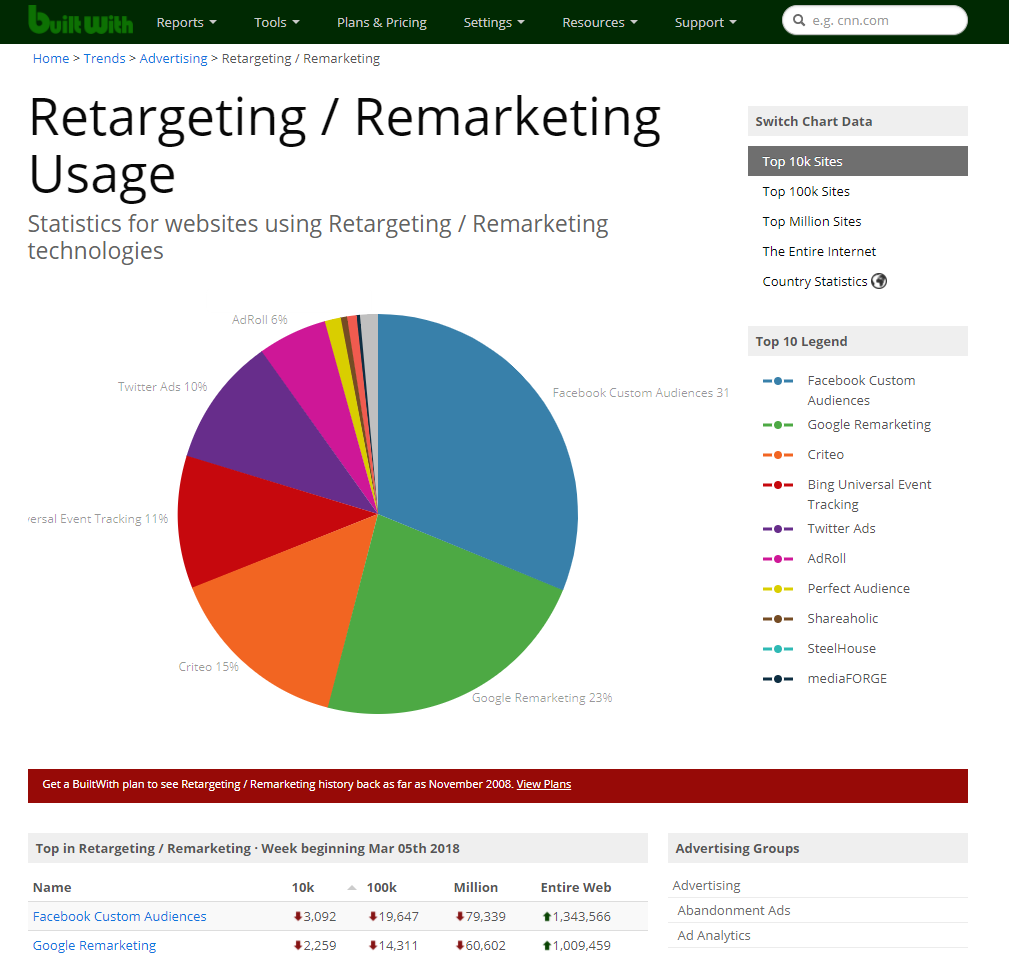 Discover New Initiatives That Your Competitors Are Working On
Another nifty method of unearthing your competitors' goals and objectives is to simply scan job boards like Indeed and LinkedIn and see which roles they are hiring for. Specifically, look into the responsibilities and skill requirements for each role as these will give you insights into which tools your competitor is currently utilizing or planning to on-board.
I hope you find these techniques useful. I have lots of golden nuggets to follow in future posts, so stay tuned!
What are some techniques or platforms you're using to gain valuable insight into your competitors?